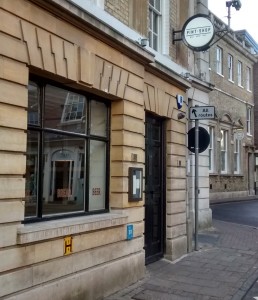 In a country where most bars, pubs and restaurants are part of large organisations, often controlled by multiple levels of management and bean counters, I always admire those individuals who have the guts to open an independent business.  Management, quality control and procedures, typical of large chains, enable commoditisation of cooking and food serving; these companies rely on a constant supply of people with little or no skill, they train them for a few hours or days and simply let them follow well tested procedures.  All this well proven system allow rapid expansion of these organisations and put us, the consumers, in front of fairly safe choices when it's time to go out for a meal.  It's a fairly safe choice which, however controlled in terms of procedures, doesn't guarantee excellent and courteous service or amazing quality food; simply a level of consistence across the various outlets in different cities and towns.
Despite my nearly 21 years in the UK I very much appreciate the Italian way of managing restaurant which, in most cases, sees a family business or small partnership manage the same restaurant for many years.  In the UK I love to find an independent restaurant which offers good quality food and service, helped by by friendly and competent staff.  Here is my little story about the Pint Shop in Cambridge.
I first noticed the Pint Shop when I saw the building being refurbished; then somebody I know in Cambridge mentioned it on Twitter; I was intrigued by the name and decided to check their website.  It was immediately obvious and I liked two facts:
It seemed an independent restaurant, not part of a chain
There was somebody with a clear marketing proposition in terms of food and drinks
When we first visited it, four of us in total, we were welcomed and assigned a table following our booking; light level and colour was just right for the atmosphere.  There was a broad demographic of people seated at the tables, ranging from early twenty to late sixties.  The furniture has a solid and a bit rustic look which fits the place.  The food menu was rich of traditional, nearly comfort, food described in a way that inspired us trying them all.  All waiters and waitress were able several questions about what was on the menu; answers were informed and articulated, without hesitations or … "uhm, let me check…" kind of thing.  We all had different choices of meat and fish dishes, all of them exceeding our expectations for taste, presentation and size of the portions.
In a place called "the Pint Shop" you kind of expect beer to be the drink of choice; with a board of beers on tap which had around 20 different ones we surely could do with some help and here came the second surprise; all members of staff could answer, precisely and without hesitation, questions about all beers we were asking for.
Needless to say that my first impression was great and I kept the Pint Shop in mind for future occasions.  Without considering myself a regular I have visited the place several other times, both in small and large groups, and each time I had the same level of service, good beer and excellent food.