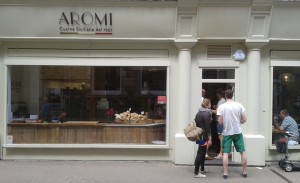 Location is an essential feature of any thriving business; your location will have a strong influence on your business, unless you sell online, no matter what you sell.  Our streets are full of Cafès and bars; while twenty years ago some of them would get away with average coffee and badly made cappuccinos the trend set by large coffee chains has raised the standard to what I would call a decent level.  Just 10 years ago in Cambridge I could struggle to get a decent cappuccino and a eatable croissant now I can even choose where to go:-)
I am sure that the owners of Bennets or Fresh Thyme spent time and effort to plan the opening of their shop in one of the most central and probably expensive buildings in Cambridge, just behind the Guild Hall.  I am not passing by there very often but I am inclined to think that they were doing decent business, given their position in an area rich of tourists, students and business people.  The owners of Bennets and Fresh Thyme probably could not be aware that Aromi was about to open next door to them and how bad it could have been for their business.
Within matter of weeks Aromi, a Sicilian Cafè bar located between the above mentioned Cafès, has created an incredible fame for itself.  I surely did not see any advert or press release about their opening but the whole Italian community was speaking about them while they were still building the place;  I waited for a while before visiting them but I could not avoid the whole word of mouth noise that the place managed to generate.  Honestly I was simply amazed by the whole atmosphere that helps making of Aromi a great place to eat or drink something.  In short: it's like being in Italy and, frankly, it's the only place in Cambridge that manages to create such an environment.  The place itself is tiny with probably less than 40 seats between the bar area and the basement room.  The bar is buzzing with barista that know how to make a good cappuccino (so far I have not tried any different coffee drink) and they have fresh Italian pastries that simply fit the bill: fresh, delicious and with a typical taste.  The kind of taste that after the "good" doesn't suggest to add the usual "but not as good as in Italy".  Although I did not try them yet I spotted some amazing paninis and pizzas so I am looking forward to my next trip there.
Having been there twice and having to queue from outside the door while the waiter from Bennetts was sitting outside smoking and Fresh Thyme had the waiters inside seated because of lack of customers it come spontaneuous asking one question: how does Aromi manage to attract so many people?  By offering amazing food at very reasonable prices to the point that all of their customers, including me, are their best salesmen and tell their friends.  Well done to you Aromi, I was waiting for long for a place like this.