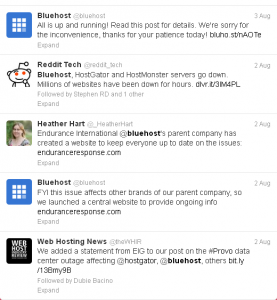 While many people see it as a marketing tool and others consider it a waste of time Twitter, in its simplicity and limitations, is really a great tool for a variety of uses, such as handling emergencies of any kind, including business emergencies.  The fact that anyone can publish toward the world a tweet, an update that includes a link to a web page, a picture or a video it allows anyone to become an instant journalist; if the tweet contains one or more #hash tags or even simply words that relate to something interesting happening in the world and many people will be searching it the whole stream of tweets can go viral.  It occurred to me when a couple of years ago Anders Breivik massacred 77 people in Norway and by simply searching Norway on Twitter it was possible to nearly follow the event in real time; same occurred during the revolutions in the middle East when governments were trying to control the news and publish what they wanted while casual passers by could post what was really happening in that moment, keeping us informed.
Late last week I enjoyed once more using this great tool when we experienced a problem with Bluehost, the hosting service that handles all of our company's websites.  I first noticed how our main website was not responding.  Then a colleague of mine called to point out that another site was off line.  At that point I tried to login to the back office and that was, for the first time ever, down as well;  Bluehost's customer service was not picking up the phone and I started to worry.  I initially searched on Google "Bluehost news" just in case there were announcements about the company being in trouble or being liquidated but nothing was recent or relevant to prove my worry.  So I decided to search "bluehost" on Twitter and a very busy stream appeared before my eyes; one new tweet was being published every few seconds and it was pretty clear that many people complained about being in my same situation.  The @bluehost account was initially very quiet with the last message being a couple of hours old then, probably when they realised the PR mayhem that was developing they started to react and reply to various messages, as well as publishing updates about what was going on and the progresses they were making.  The following day all of our websites were back to normal while mashable published an article explaining how the whole server farm used by Bluehost as well as Hostgator and Simply host was affected by a technical fault, without adding too many details about the real cause for this very serious incident.
Company blogs as well as Twitter are a very immediate communication channels toward your audience.  In 2013 people cannot wait for tomorrow's newspaper and read what happened; they want to know what's happening and they want it now so when an emergency occur don't leave your audience with uncertain information and keep informing them, even if just to say that nothing new is happening.